| Label | Information |
| --- | --- |
| Dates & times | |
| Category | Adult Program |
| Location | Main Library |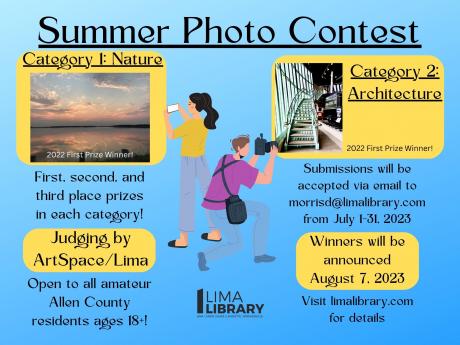 Congratulations to our 2023 Winners!
Nature-Dandelion-First Place

 

Nature-Spread Your Wings-Second Place

 

Nature-Sunbeams in the Dust-Third Place

 

Architecture-Lima Rails-First Place

 

Architecture-In Mykonos-Second Place

 

Architecture-The Farm House-Third Place

 
Thank you to everyone who submitted photos!
---
Submit entries to: morrisd@limalibrary.com
Subject line: "Summer Photo Contest"
Rules
Submission Period: July 1-31
Photo Contest is open to all Allen County, OH residents.
We will accept amateur entries only.
All photos must be the original work of the photographer.
The photographer is responsible for obtaining signed releases from any human subjects, and must include any releases with submission.

Any submissions featuring persons other than the photographer must include written permission from the subjects (or in the case of minors the minor's legal guardian) giving the library permission to use the photos for display purposes both in the library and in the library's social media.
Permissions may be submitted at the library or scanned and attached to the submission email.

Entries must be acceptable for public viewing by all age groups.
Photos may be taken with a camera or a cell phone camera, but must be submitted as a digital file.
Entries not meeting the rules will not be accepted.
Employees and family members of the Lima Public Library or ArtSpace/Lima are not eligible for prizes.
Submissions
Categories:
Limit one (1) photo per person per category.
Submit photo as a digital file via email to morrisd@limalibrary.com with the subject line "Summer Photo Contest".
In the email body, include:

Your name
The photo's category
The name of the photo; if you do not provide a name for photo, the library will create one for display purposes.

Please submit only one photo per email. Include signed releases with photo submission if applicable; scans of original releases are acceptable.
Judging and display
1st, 2nd, and 3rd place in each category will be judged by ArtSpace/Lima during the first week of August.

1st place prize: $20 gift card
2nd place prize: $10 gift card
3rd place prize: Book sale voucher

Beginning August 7, the winning photos will be displayed at the Lima Public Library and on the library website.
Disclaimer
By entering the Lima Public Library 2023 Photography Contest, entrants give permission to Lima Public Library to use, modify, reproduce, publish, display, distribute, or make derivative works of entry materials for promotional or any other purposes digitally or in print while copyright of entry materials remains with respective entrants.